Welcome to Disney's Saratoga Springs Resort & Spa…your vacation home away from home!
This equestrian-themed, Victorian-style resort was our family's home for several nights during our most recent Walt Disney World vacation. We all agreed it was a beautiful property, with very cozy accommodations. We felt right at home here!
It's pastel-colored buildings and perfectly planned out grounds are very inviting as it is surrounded by beautiful water-features and rivers, as well as a gorgeous golf course.
Saratoga Springs has an onsite spa, as well as multiple pools, an arcade and dining experiences.
Saratoga Springs Resort & Spa at Walt Disney World is very large, and therefore has many different sections:
The Springs
The Paddock
Congress Park
The Carousel
The Grandstand
Treehouse Villas
Saratoga Springs Resort & Spa is a Disney Vacation Club deluxe resort at Walt Disney World. Its accommodations feature deluxe studios, 1 and 2 bedroom villas, as well as 3-bedroom treehouse villas. (Yes! Treehouse villas!)
Our family stayed in a 1-bedroom villa, which features:
Master bedroom with a king-size bed
Split bathroom with full size jet tub on one side, a shower on the other side and a separate toilet area
Desk
Living area with fold out sofa bed
Private balcony
Laundry room with a full size washer and dryer (laundry detergent included)
Full kitchen
Kitchen appliances and utensils: dishwasher, stove, oven, full-size refrigerator, microwave, dishes, coffee pot, blender, toaster, pots, pans, cooking utensils and silverware
Breakfast area with kitchen table
For babies/toddlers: high chair, pack-n-play
We loved the space of the villa, as well as the separation of the rooms so that when our children were sleeping, we could stay up and work, watch television, etc…
Overall, the rooms are nice and clean, the villas were spacious, the exterior is inviting, and although this is a very large property, the parking/transportation was very convenient.
The 1-bedroom villas can accommodate a maximum of 4 guests and it was a great size for our family of 4.
Saratoga Springs Resort & Spa also features multiple pools, as well as an onsite Senses Spa. The main pool is very large, features a beach entrance, a small slide, splash pad and a large tunnel slide. Life jackets are available for children and towels are readily available as well.
We had no issues getting pool chairs mid-morning.
On The Rocks pool bar is open daily and offers poolside service to your pool chair/table. We enjoyed a great poolside lunch!
Quiet pools are also located in each section of the resort.
If you're an avid golfer, or looking to take a break from the parks, Lake Buena Vista Golf Course is located at Disney's Saratoga Springs. We loved the Mickey-shaped bunkers and hole markers!
One of our favorite aspects of this resort was the convenience of getting to and from Disney Springs, which we visited several times during our stay. You can take a bus from the resort to Disney Springs, catch a boat and take a scenic ride down the river, or you can make the quick 10 minute walk! We tested out each method of transportation to Disney Springs and agreed we enjoyed the walk. (The kids especially enjoyed the "walk" because they got to stroll in the double BOB stroller we rented from Kingdom Strollers!)
With such gorgeous views, we love exploring the property on the path to Disney Springs!
The primary form of transportation to and from the parks is via bus. Minnie Vans are available through the Lyft app, though we did not have any issues using the bus system.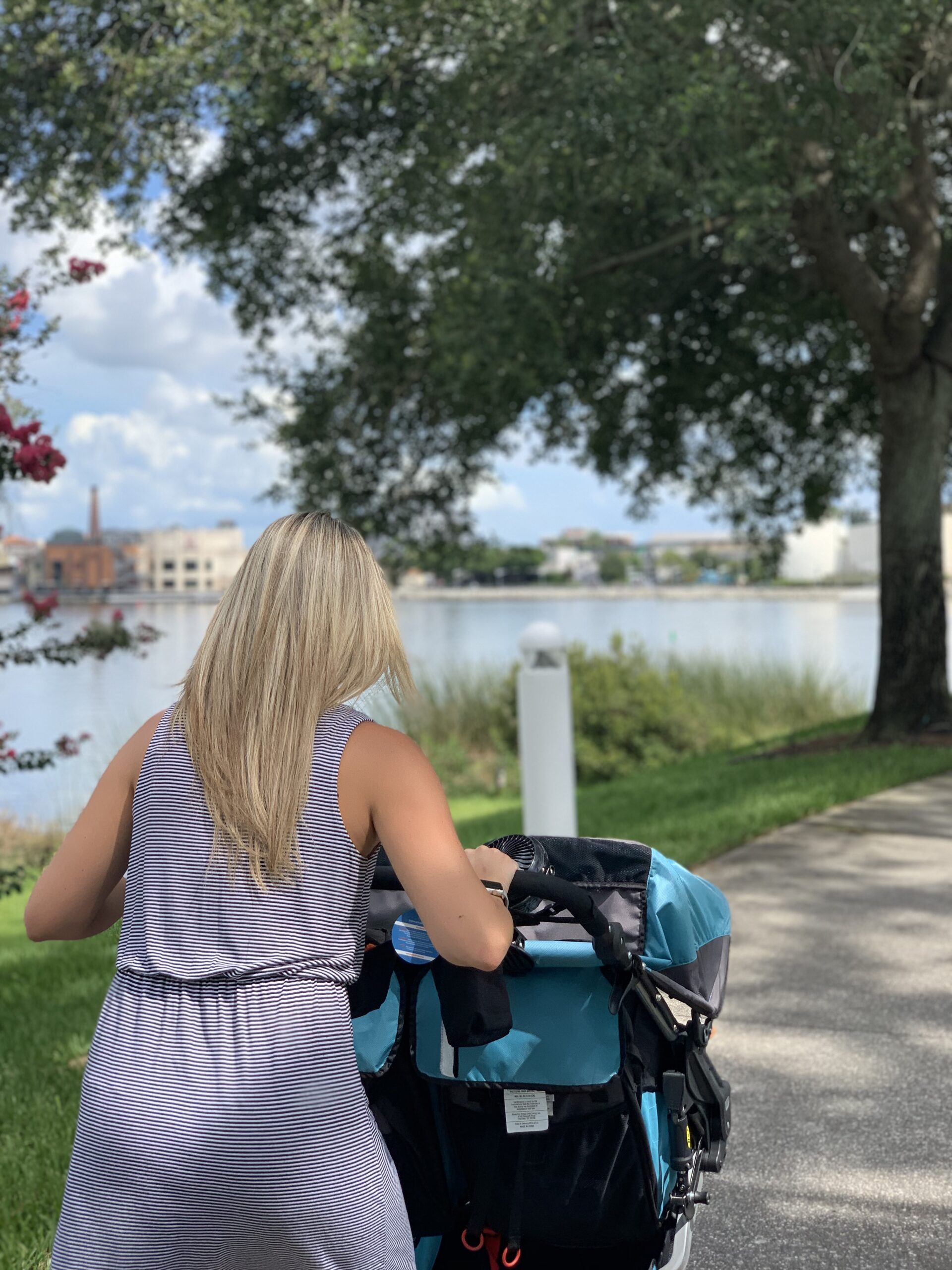 Overall, we thoroughly enjoyed our stay at Saratoga Springs Resort & Spa at Walt Disney World and would stay there again in a heartbeat! It's also a great option for adults taking a Disney vacation as it is a nice reprieve from the theming of some of the other Disney properties, but still the same magical, Disney service as always.
Are you interested in staying at Saratoga Springs Resort & Spa, or one of the many magical resorts at Walt Disney World. We have experience with every single Walt Disney World resort and would love to help you plan your family's Disney vacation! Click here to request your complimentary quote today!